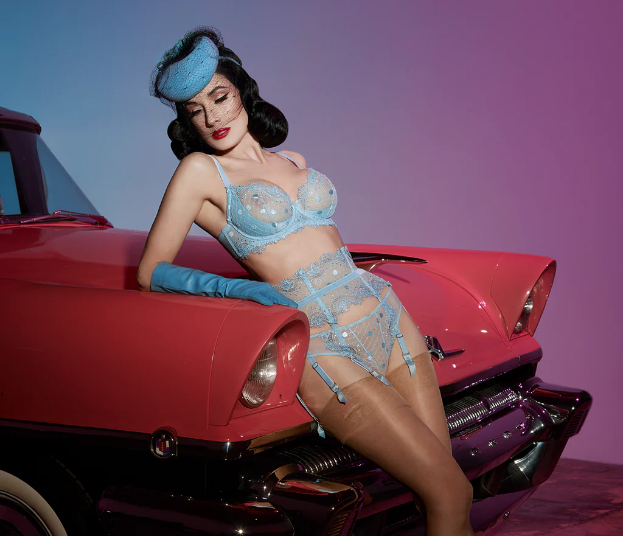 All About

Dita
Artist. Style icon. Beauty eccentric. Activist. 
Dita Von Teese is a champion for glamour, believing it should be within the reach of anyone who desires it. This is central to her ethos as creative director and designer of a namesake lingerie collection that is as bewitching as it is well-fitting, ready to wear night and day...
"i advocate glamour. every day. every minute."
- DITA VON TEESE
BIOGRAPHY
It all began with lingerie.
As a child in her native Michigan, the girl who would go on to become an international style icon and burlesque star was glued to her TV every Saturday, watching classics from the Golden Age of cinema. Heather Renée Sweetloved everything about these old movies. But she was most mesmerized by the glamour, even among characters seemingly down on their luck. Jean Harlow in a shimmering silky négligée. Marlene Dietrich in top hat and garter stockings. Jane Russell in a bullet bra. These were all unwavering screen goddesses with underpinnings to match their enchanting allure and fearless spirit.
Then came Gypsy Rose Lee, an inspiration to the young teen as both as an entertainer and entrepreneur. By now, Heather and her two sisters (she is in between them) and their parents had relocated to California, and an after-school job at a local lingerie shop only fueled her imagination. There, she consumed the nuances of French-cut briefs and French tap pants. She explored the beauty of Chantilly lace and colored silks. She observed how ravishing clients felt hooking into their first garter belt. She recognized the empowerment clients of all ages and curves encountered when they finally discovered how a bra should fit. Learning how to properly fit a bra would inevitably prove valuable.
A change of hair color and name came in 1992, and with it the newly self-realized Dita Von Teese embarked on her own take on vintage glamour, sex appeal, and creative expression. She distinguished herself from other dancers in their contemporary undergarments by way of eamed stockings, corsets and other Midcentury lingerie. "I loved the way these vintage pieces made me feel," Dita recalls. "I would
channel those screen goddesses from all my favorite old movies." She started collecting vintage lingerie, a pursuit that continues to this day.
Today, Dita Von Teese is recognized around the world as the Queen of Burlesque, having set a history-making benchmark for this great American art form as performer, creative director, choreographer, and producer. Her marquee tours are dazzling spectaculars showcasing a gender- and body-diverse cast of the crème de la crème of neo-burlesque performers, hailing from all over the world, and selling out in historic theaters across continents. The latest is called "Glamonatrix," a nod to her deep enthusiasm for all things glamour.
Off stage, Dita's signature style has made her muse to some of the greatest couturiers and designers—influencing their collections, appearing on their runways, in their campaigns and on red carpets. It has also attracted the likes of filmmakers (director Olivia Wilde cast her in "Don't Worry Darling") and pop
supernovas (Taylor Swift tapped her as her burlesque-styled fairy godmother for the "Bejeweled" video).
Dita has led the way, too, as designer, collaborator and entrepreneur, with eponymous forays in beauty, music, publishing, spirits, entertainment production and fashion. In the latter, she has extended her designeye to gloves and jewelry; hats with Hood London; and a signature clothing collection in collaboration with Austrian-based designer Lena Hoschek that is in the works. And, of course, lingerie.
Above all else, Dita Von Teese is synonymous with lingerie. After all, be it balconettes, briefs or garter
belts, these are the tools of her stock and trade.
It's also part of her glamour evangelism, spreading the virtues of beautiful and well-fitting lingerie. "Everbody deserves pretty lingerie," she notes. "Lingerie offers a chance to honor your self every day."
She says as much in the preface of In Intimate Detail, a bible on intimates by Cora Harrington of The Lingerie Addict. Dita's own books showcase lingerie in photographs and with history and advice, including the The New York Times bestseller, Your Beauty Mark: The Ultimate Guide to Eccentric Glamour (Harper Collins and available in several languages). In between insight on make-up and hair, there is required reading on properly fitting a bra and how to wear other undergarments. She will reveal even more on this favorite topic in her forthcoming companion book, Fashioning the Femme Totale: The Ultimate Guide to Glamonatrix Style (release to be announced in 2023).
The commitment is in the collection, of course. Dita co-founded her namesake lingerie line in 2012, and
since then has remained hands on in every aspect. She provides direction in design, personally and
painstakingly selecting every color, every lace, every name for each style. She produces the photo shoots, overseeing every detail, down to the location and props
Nearly a decade before the body-acceptance movement, Dita cast so-called plus-size models on her
runway and in her campaigns and pushed for a wider range of sizes than department store buyers were
interested in. She also had to convince these buyers that, yes, modern shoppers did want pretty, full-sized panties and that, yes, they would buy garter belts. Her instincts were right
"What lies below the surface may be for your eyes only," Dita observes. "Yet each item can have a world
of impact."

READ MORE
READ LESS BIO